Puppies
Lab Pups Guaranteed to Hunt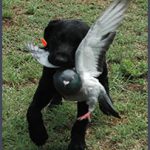 Deep Fork puppies are sold with age-appropriate shots and worming, dewclaws removed, a two year genetic health guarantee, socialized and most importantly, retrieving live birds at seven weeks of age.
Shipping through major carriers is available through Will Rogers World Airport in Oklahoma City, Oklahoma. Read more about our breeding results from our hunting clients on the Testimonials page.
Announcing Fall 2017 Litter
Born September 26, 2017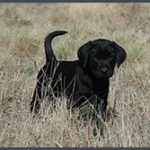 We have 7 puppies from our Zippy/Rudy litter – 5 females and 2 males. All black, as usual at Deep Fork Retrievers. This is a repeat breeding with a proven track record. The pups from the last litters are handsome, extremely driven and easy to train – see pics and pedigree on our facebook page. Call (405) 769-4108 now to reserve your pick.
Price $1,000